strikingly imaginative … gracious to sing and hear, interesting piano accompaniments, always worthy texts
— Dominick Argento
revealing each morsel of poetry through her brilliant tonal, textural, and rhythmic language, her work is immediately recognizable and wonderfully familiar … singers and audiences alike take delight in her songs
— Stephanie Blythe
remarkable songs, gems with both substance and beauty
— Richard Lalli
one of the finest text setters writing English song anywhere … leading with her distinctive and feminine voice combined with a big pianist's brilliance and her uncanny way of writing music that gives singers the ability to be better than their best
— Margo Garrett
amazing and interesting writing for both the voice and the piano … her ability to illuminate the poetry is splendid
— Alan Louis Smith
Juliana Hall's music is to poetry what light is to a prism; it brings out a wealth of colors from the text.
— Molly Fillmore
Juliana Hall has set herself apart as a composer devoted to the art song … Hall's compositional voice is certainly distinctive, and breaks away from the rather ubiquitous style of the Barber-Rorem-Hundley school, giving, I think, fresh life to the concept of the American art song.
— Fanfare Archive
the most genuinely moving music of the afternoon
— Boston Globe
By the time [Dawn Upshaw] sang her encore Saturday at the Library of Congress … she had given a breathtaking display of virtuosity in 'Night Dances,' a brilliant cycle of songs … whose composer, 30-year-old Juliana Hall, used every trick in the book—melodic and half-spoken, tonal and nontonal … to deepen the impact of the texts dealing with night and sleep, to explore the implicit emotions in sounds that ranged from a whisper to a scream, with the piano supplying illustrations and comment and engaging in vivid dialogue
— Washington Post
extraordinary talent for crafting music that translates the meanings of texts into sounds that can be felt as well as heard
— Voix des Arts
that these songs have the flavour of poetry is a testament both to these supremely lyrical and resourceful writers and to composer Hall, whose glistening, poignant music follows the natural arc of the words while enhancing the conversational flow
— Gramophone
music whose beauty could enhance the text at hand without drawing attention away from that text … masterful writing in every respect
— NATS Journal of Singing
her sensitivity to text is superb, and her loving treatment of the human voice has made her justly renowned among singers worldwide
— IAWM Journal
40@40 is GRAMMY NOMINATED — Soprano Laura Strickling and pianist Daniel Schlosberg recorded 20 songs by 20 composers, including "TWO OLD CROWS" by JULIANA HALL — More info at Bright Shiny Things. Winners announced in February.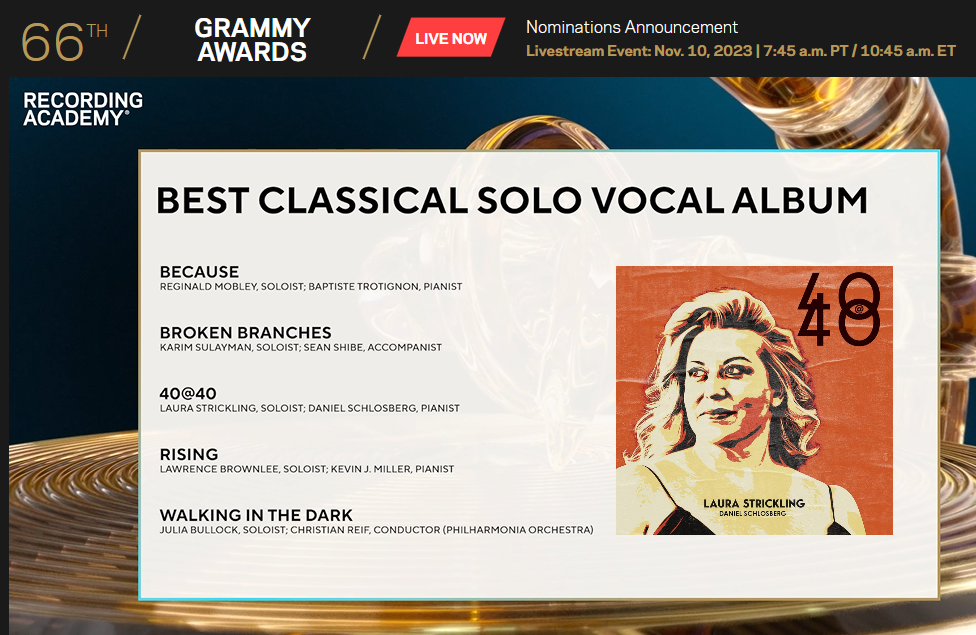 Grateful for the many wonderful performers who bring my music to the world through so many performances.
December 3, 2023 — CANCELED — Rochester, New York
Tenor Anthony Dean Griffey & pianist Warren Jones will perform "The Mystic Trumpeter"
December 7, 2023 : Antwerp, Belgium
Soprano Françoise Vanhecke will perform selections from "In Spring" – songs for unaccompanied Soprano at the Wouter De Bruycker Fine Arts & Gallery
December 8, 2023 : London, England
English horn player Nicola Hands and pianist Lana Bode of London's Tailleferre Ensemble will perform "Rilke Song" at St. John's Church at Lansdowne Crescent, London
December 16, 2023 : Madison, Wisconsin
Mezzo-soprano Madison Barrett & pianist Thomas Kasdorf will perform the premiere of a new mezzo version of the song cycle "Winter Windows" (originally for baritone)
February 25, 2024 : University of North Texas, Denton, Texas
Baritone Christopher Rodriguez & pianist Stephen Dubberly will perform the premiere of a new baritone version of a James Joyce song, "At That Hour When All Things Have Repose" (originally for contralto)
March 7-9, 2024 : Music by Women Festival, Columbus, Mississippi
Soprano Susan Boddie & oboist Will Wise will perform "Bells and Grass"

Some Things Are Dark
Dawn Upshaw soprano : Margo Garrett piano
At That Hour When All Things Have Repose
Stephanie Blythe mezzo-soprano : Alan Louis Smith piano
The Mystic Trumpeter
Anthony Dean Griffey tenor : Warren Jones piano
Dream
Susan Narucki soprano : Donald Berman piano
Ahab
Zachary James bass-baritone : Charity Wicks piano
Lawn As White As Driven Snow
Darryl Taylor countertenor : Juliana Hall piano
Death's Echo
Richard Lalli baritone : Juliana Hall piano
Godiva
Kitty Whately mezzo-soprano : Joseph Middleton piano

I have an amazing publisher, the E. C. Schirmer Music Company. "Buffalo Dusk" (song on Carl Sandburg), "The Mystic Trumpeter" (setting based on Walt Whitman), and "Peace on Earth" (song on William Carlos Williams) were recently published, bringing the list of my published works to 55.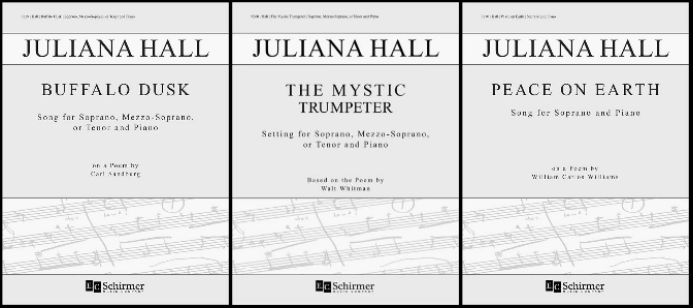 To obtain any of my vocal compositions, check out E. C. Schirmer.